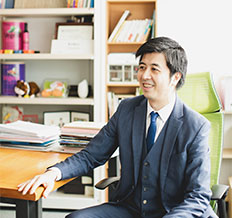 Kohey Takashima,
Representative Director, CEO,
Oisix ra daichi Inc.
Farm for Tomorrow, Table for Tomorrow
In June 2000, we at Oisix, launched our business featuring only 20 different types of vegetables.
Then we started a search throughout the country for safe, healthy, and delicious food products. Our concept was to only supply "products that food producers would be comfortable giving to their own children." We now sell more than 4,000 products, including meat, fish, daily food products, prepared dishes, sweets, and alcoholic beverages, as well as fresh fruit and vegetables.
It was not easy to persuade farmers to sell their products to us when we first started out, but we now have partnerships with approximately 2,700 top-class producers throughout the country.
There are many things we cannot or will not do.
There are a lot of things our Company cannot or will not do.
No matter what the sales potential of a product is, we will not sell any food which the producers of that food would be reluctant to eat themselves, simply to boost our own sales.
We aim to sell our products at prices that are as reasonable as possible. However, we sell high quality products from all over the country, so we will not compete on price.
We do not keep stocks of most of our products simply to guarantee the delivery of fresh fruit and vegetables to our customers. For this reason, we do not deliver as soon as we receive your order.
Although there are a lot of things we cannot and will not do as a Company, we are committed to doing our utmost to the best of our abilities.
We bring a smile to the dinner table…
Our aim for our customers is to deliver food produced by carefully selected food producers from all over the country in optimal condition in terms of taste and safety.
We also bring a smile to our customers' dinner tables by helping them enjoy a delicious range of food at home.
We are committed to making every effort to help more and more customers enjoy a happier and more varied diet.
Kohey Takashima, Representative Director, CEO, Oisix ra daichi Inc.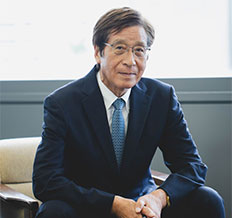 Chairman, Oisix ra daichi Inc.
Kazuyoshi Fujita
Oisix ra daichi aims to provide food that customers can imagine how the food was produced.
Eating is essential to the wellbeing of our body and is also the main source of energy for our daily life. The consumption of nutritious food allows us to stay health mentally and physically. Our goal is to establish a sustainable relationship between manufacturers and consumers by delivering fresh products to our customers.
We understand that price is a huge factor for our customers, therefore we always price our products as reasonable as we can. On the other hand, some customers desire products of a higher price to ensure safety. We respect all our customers' values and is dedicated to finding the best solution.
We provide food that customers can image how the food was produced; food products that communicate with our customers. For example, potatoes from Hokkaido are delicious because of the local weather, environment, farming techniques of local farmers and most importantly the thoughts behind the products. In other worlds potatoes are not just a simple food product but a part of Japanese culture. We aim to not only delivery food, but to deliver culinary culture to our customers.
Oisix Inc., with its 17-year history and Daichi wo Mamoru Kai Co., Ltd, with its 42-year history in Japan's organic vegetable industry, have merged. In October 2018 they will merge with Radish Boya Co., Ltd., who has a 30-year history in this industry. These three brands have joined forces, and by using their experience and track records, will surely be a huge success in Japan's organic vegetable industry.
Thank you for the support and please look forward to the future of us.
Kazuyoshi Fujita, Chairman, Oisix ra daichi Inc.